Dear Professor,
Does it bother you that you're ten years older than me?
Have you ever thought it's wrong that you watched me fuck another guy on camera for months?
What do you want from me, really? All I wanted was my letter of recommendation, but now I'm stuck, aren't I? Stuck under your thumb… And your body.
From cam girl to personal whore, and all by the age of twenty-one. You've got me good, haven't you?
But guess what? I can play too. Grab the polish, because I've found your skeleton, and it's time to dust.
I'll see you in class.
Oh and, Sir? I'm not wearing any panties.
Love, Darcy
P.s. you're an asshole.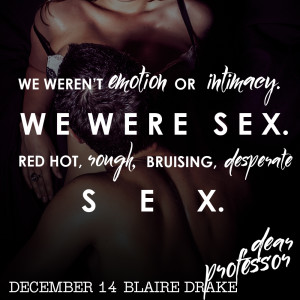 Blaire Drake is a pseudonym for a New York Times bestselling author who wanted to think outside her box and write the kind of things that would shock even them. She loves taboo romance and pushing boundaries in her work. She also enjoys long walks on the beach at sunset, as long as it'll be followed by a good, old-fashioned spanking right after.
DEAR PROFESSOR is her debut standalone novel, and her next book, PRETTY PORNSTAR, is also a standalone novel that promises to be equally as taboo and sexy.
You can connect with Blaire online at:
FACEBOOK   TWITTER  INSTAGRAM   PINTEREST 
You're also invited to join her reader group at: https://www.facebook.com/groups/1660452467533550/